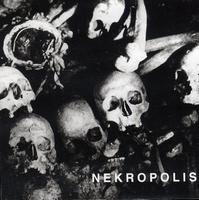 I first saw this album browsing through the Krautrock bins at a local record store. I thought it was a misfiled ass-flap style band, but, after reading the fine print on the back, I realized it was a
different story altogether.
No, those skulls are not part of the mass grave of d-beat clones. Rather, they are the dystopian echo chambers through which Nekropolis's oppressive, pulsing ambiance reverberates.
"Pulsing" is a good word to describe a lot of krautrock, such as the funky, busy-body
songs of Neu!
that incessantly call images of Sim City to mind. How interesting to hear that feel recontextualized in
Holle Im Angesicht
, this time as the next evolution of a rat picking its way through the post-civilization wreckage of the same, once-thriving metropolitan center. The groove of
Ghul
is textured with the wailing of several hundred televisions blaring to empty apartment buildings, all inhabitants, save the rat, victims of a superbug that is just beginning to stir in the bellies of our midwestern
CAFOs
. Lights out listening is mandatory for this one.
PS: This rip is from the excellent
Mutant Sounds
blog. Take a second to consider their bountiful offerings.