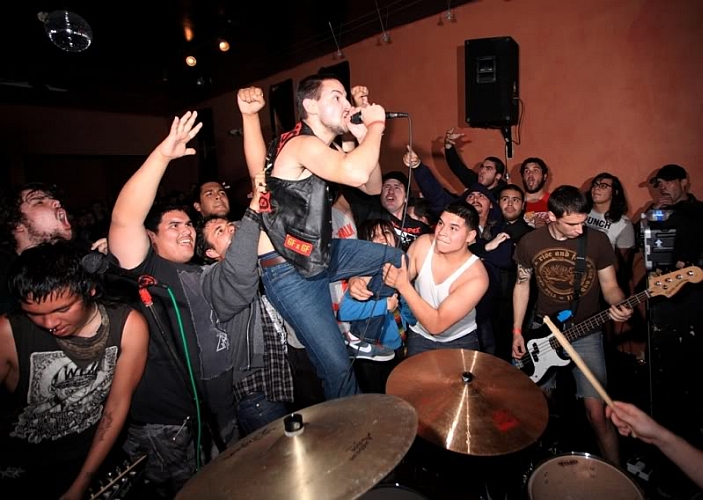 Drew is one of the best drummers I know. And apparently, he's also one of the best drummers that people who know more people than me know, as he has played drums for Owen (
New Leaves live @ Beat Kitchen
) and Patrick Stump of Fall Out Boy (
hey a Prince cover
). Keep in mind that these are people who have a very wide selection of drummers available to them. Oh yeah and he plays bass in Weekend Nachos. That's Drew on the right if you have the will power to pull your eyes away from Caution's seductive leather vest.
Drew has a music taste that is very interesting and foreign to me, so I was really curious to see what he would come up with for a guest mix. I am almost completely incapable of predicting whether or not he will like something. Like, I think I'll have him figured out, and then he'll completely love Arab on Radar or something and my model fails. Although science may not have the right answers, at least it's asking the right questions....
It seems as though Fall has been the theme for all of these mixes.* In keeping with that, I figured I would just pull songs from my laptop's itunes that have been getting a good amount of plays as of late. There is no real rhyme or reason to the mix besides that they're all songs I've been listening to in the past month. Maybe you will like some of these songs, and if you don't...I don't care.
Tracklist:
1. The American Analog Set - Punk as Fuck
2. Califone - Funeral Singers
3. Cass McCombs - You Saved My Life
4. Gameface - Gibberish
5. Japandroids - Sovereignty
6. Lali Puna - Faking the Books
7. Morrissey - Boxers
8. Owen - A Fever
9. Prince - Kiss
10. Red House Painters - Byrd Joel
11. Talking Heads - Once in a Lifetime
12. Wilco - We're Just Friends
Download
*Whoa, I guess Drew sent me this awhile ago. Well Drew, if you don't like it... I don't care.